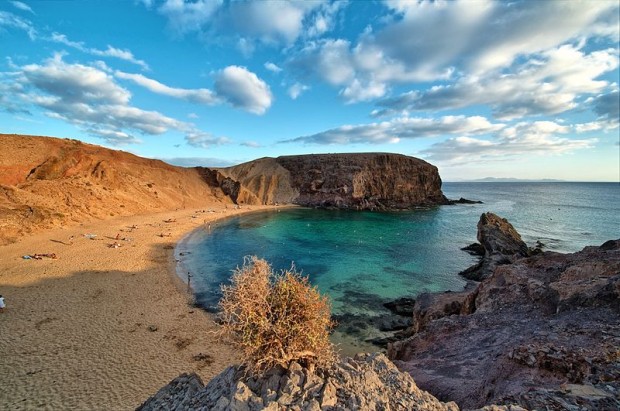 Lanzarote is a small and fascinating island located in the Atlantic Ocean. While it's best known as a chain of volcanoes, look a little harder at this Spanish island and you'll discover quaint villages and breathtaking beaches. In fact you'l never run out of things to do during your trip, here's ten of the best.
1. Visit Jameos del Agua
One of Lanzarote's most impressive attractions is the Jameos del Agua, where architecture and geology intersect. Drop by the visitor center and check out the restaurant bar, museum and auditoriums that are housed inside this lava tube.
2. Discover the El Golfo
El Golfo is a small lagoon situated on Lanzarote's west coast. The path towards it is built on the rocky lava coast, where you'll see a spectacular array of colors in the surrounding lagoon and the red cliffs.
3. Trekking at the Timanfaya National Park
Visit the Timanfaya and be amazed at the immense beauty of the lava fields and volcanoes that make up this awe-inspiring landscape. During your trip to the park, make sure you head off to the visitor center and learn more about the rock formations that make Lanzarote what it is.
4. Travel to El Mirador
El Mirador is a remarkable visitor center set on towering cliffs. Featuring an observation deck, you can check out the amazing views of the La Graciosa Island, Las Salinas del Rio and the magnificent Atlantic Ocean. You might even be able to spot passengers on the frequent flights to Lanzarote, thanks to the telescopes on the deck.
5. Dine at fancy restaurants
Popular for its potato-based dishes and fresh seafood like swordfish, monk fish and fresh tuna, eateries on the island are second to none. Highly recommended restaurants include La Puntilla and Stratus winery and restaurant, where you can have a taste of the island's scrumptious dishes and specialty menus.
6. Wine-tasting
Lanzarote is also known for its vine-growing tradition and its production of some of the finest wines in the world. Visit El Grifo Wine Museum or check out nearby wineries and try popular wines like Moscatel and Malvasia.
7. Water sports
Lanzarote boasts some of the finest beaches in Europe at Playa Blanca, Teguise and Puerto del Carmen. These beaches are great for chilling out on or even trying your hand at windsurfing, kitesurfing and more.
8. Explore the historic towns
Several towns in the island are worth exploring because of their rich culture and scenic views. Among the best towns to visit on the island, Arrecife, Castillo de San Gabriel, and Haria, where you can find historic castles, white-washed houses and vibrant marketplaces, stand out the most.
9. Go fishing
Game fishing is one of the favorite pastimes of locals. Excellent fishing spots on the island include Puerto Calero, Puerto del Carmen, La Graciosa Island and Alegranza.
10. Check out the Jardin de Cactus
It's hard not to be impressed with the natural beauty of the Jardin de Cactus, a collection of over 10,000 species of cacti from various parts of the world. Shaped as an amphitheater, the garden houses numerous volcanic stone sculptures by various artists too.