As with any major city, London is a place which has its own rules and etiquette; customs which are obvious to the people who live there on a permanent basis but which can seem quite perplexing to international visitors coming to the city for the very first time. Whilst discovering the different customs which make up international cultures is actually one of the exciting elements about travelling to new countries, it can also be a worry if you don't know exactly what is expected of you in each unique situation and tipping is certainly one of those customs which varies from country to country and city to city.
It needn't be too stressful however, with our quick guide on tipping in London.  We will briefly talk about when you need to tip and how much (roughly) you would be expected to tip in a number of different situations you might reasonably find yourself facing when you come to visit London:-
Tipping in Restaurants
Undoubtedly the most common circumstance where you would need to tip, this is a fairly straight forward process in London.  If you are seated at a table and waited on, i.e. a member of staff comes to the table and takes your drink and food order, then you would be expected to leave a tip which is around 10% of the final price of your bill.  If you are eating in an establishment where you go to the bar or till and order the food yourself and it is then brought out to you, tipping is not necesary but still appreciated.  The tricky part here is to watch out for something called a 'service charge' being added automatically to your bill.  Some restaurants only do this if your party is made up of a large number of people but some do it regardless of whether it is one person dining or ten.  A service charge is, in essence, a pre-added tip, and you should always check your bill before leaving a tip to see whether it has been added or not.  If you are paying by card then occasionally the scanner will ask whether you want to add a tip and you can make the choice and it is worth bearing in mind that if a service charge has already been added to your bill then you are not required to leave any additional money.  Likewise, if you feel that service has been particularly poor then you are within your rights to ask for the service charge to be removed; it is an additional amount and not something you have to pay.  One final thing worth looking out for is a note on your bill which says 'service not included', this is usually a good sign that a tip is expected.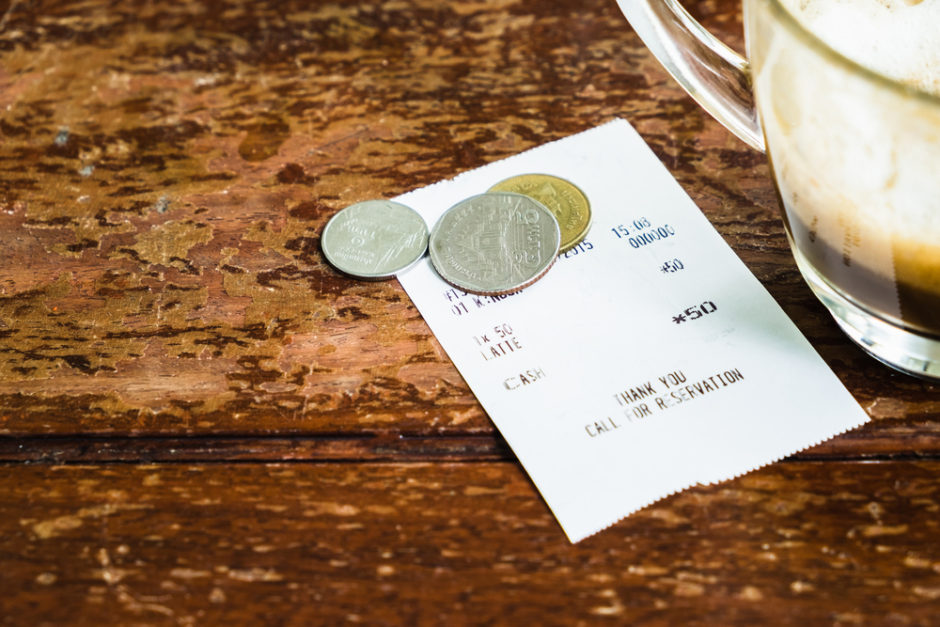 Tipping in Bars and Pubs
It is not customary to tip in bars and pubs but if you have found the service to be exceptionally good then you may want to do so.  In this circumstance you may offer the person behind the bar a drink; they can then choose whether to accept the drink or put the money for the drink to one side.  Or if you are paying by cash you could simply say 'keep the change' and give them a small amount that way.  This is a situation where tipping is entirely at your discretion, whether you are in one of the bars attached to the hotels near Hyde Park or in the heart of London on a night out.
Tipping in Hotels
Another grey area in the world of tipping is when it comes to tipping in hotels, such as the Grand Royale London Hyde Park Hotel.  If you are staying in a 4 or 5 star hotel then it is customary to tip the staff, usually £1-2.  Anything under a 4 star hotel and only the porter who brought your bags to your room would expect a tip and anything around the £2 mark would be acceptable in this case.  Likewise, cleaning staff in any hotel do not anticipate a tip but if you were to leave a small amount on your bedside table after your last night then this would almost certainly be appreciated.  However, as with restaurants, some hotels have now started adding a service charge of 10% to bills so it is worth checking your bill before you check out to see whether this has been applied to your final bill.  As with restaurants, this is a voluntary payment and if you have found service to be particularly poor then you are perfectly within your rights to ask for it to be removed.
Tipping in Taxis and Cabs
It is not necessary to tip taxi and cab drivers but many people choose to round their taxi fare up to the nearest pound and say to the driver, 'keep the change' on payment.  If you have had assistance from the driver with luggage, or you have simply enjoyed the taxi journey, then a 10% tip or an extra £3-5 on top of your taxi fare is often appreciated but this is not a necessity and taxi drivers do not expect to be tipped.
Tipping London Tour Guides
How much you tip at the end of a tour around London depends on the type of tour that you have had, the size of your party and whether the tour is paid or free.  Often with free tours, the guide receives no payment and so their earnings come entirely from donations from those who have enjoyed and attended the tours.  If you have paid for a tour then a tip of around £2-5 is usually acceptable, or if you are part of a larger group then roughly £1 from each person, especially if you have found the tour enjoyable and informative.  If you are booked onto a coach tour then a tip to the tour guide and the coach driver of around £2 at the end would be appreciated.