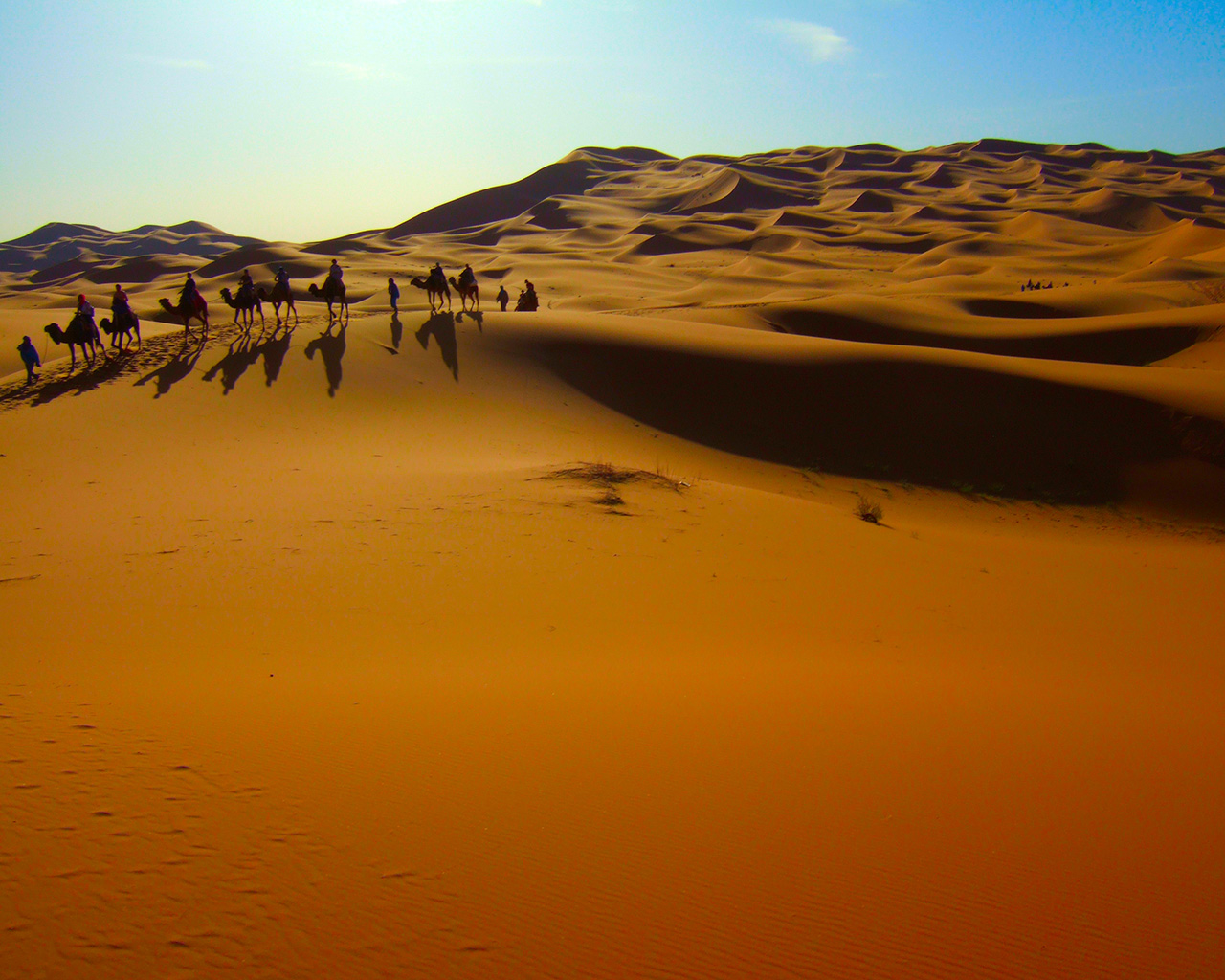 Morocco is a country which is bursting with vibrant culture and multitudes of things to see and do. Amongst the spices, fabrics, music, beaches, mountains and medinas, it's a place that's a real feast for the senses. And after all, a change is better than a rest.
Once you're there, it's an easy country to explore by public transport, especially given that many of the top places to see are located fairly close to each other. Get down with the locals and soak up the best of Morocco by exploring our top five destinations.
1. Marrakech
This fabulous city is a luxury holiday destination in its own right, ringed by fantastic views of the snow-capped Atlas Mountains, surrounded by desert, and filled with the very essence of Morocco in its labyrinthine souks.
Stay in a luxurious converted riad in the city centre for the ultimate experience. Sip mint tea in one of the many rooftop cafes, and book yourself in for a cookery class to take a lasting taste of Morocco home with you.
2. The Sahara
Check out the majestic city of Ouarzazate – 'the door to the desert' for your first brush with this vast wilderness. This is where Lawrence of Arabia and Salmon Fishing in the Yemen were filmed.
From here, explore the Sahara's sand dunes the eco-friendly and traditional way – on the back of a camel, rather than in a jeep. Stop in at the traditional villages of the Dades Valley, desert oases, and the pretty town of Fes. A great thing to do for at least one night is to camp in a Berber tent – a great venue for star-gazing and soaking up the silence of the desert and a great place to visit on a luxury African safari holiday.
3. Essaouira
This Atlantic seaside resort is the place to try kite-surfing – a trendy sport thanks to how flipping phenomenal it looks as the brightly coloured sails scoot and jump along the water's edge. Book in for an hour's lesson and you won't be disappointed, even if it does take you a little longer to get going than you first imagined.
Don't miss the blue- and white-walled souks in the town centre, where you'll be able to barter for silver jewellery, quirky musical instruments and gold threaded garb. Stop for a bite to eat at whichever stall looks to be most popular with the locals – try the tangy cous-cous, tagines, and melt-in-the-mouth honeyed pastries.
4. Casablanca
If it's glamorous beach resorts you're after, head to this breezy seaside destination after a few days in the heat of hectic Marrakech. The city boasts a huge port, intriguing architecture, and the second biggest mosque in the world after Mecca. This is a great spot for rest, relaxation and a sampling of the finer things in life.
5. Atlas Mountains
These magnificent peaks are easily reached on a day trip from Marrakech, but if you've got more time, they are well worth more of your precious days. Hire a guide and explore by foot or on horseback for the best way to see this spectacular landscape. Be sure to get an itinerary that passes through the Ourigane Valley and visits a Berber village. In fact, there are whole trekking holidays available which really do justice to this part of the world.