By any measure, whether it is economic, quality of living, friendliness, or sheer beauty, Canada is a top rated country. Its mixture of high tech and cosmopolitan big cities, charming smaller towns and rural expanses make it an ideal place to plan a short visit or even stay longer.
At the core of its allure are the ten Canadian provinces that make up Canada. The largest of these is Ontario, Quebec, and British Columbia. Each has its own reasons why it is special. Here is a look at the largest cities in these provinces and reasons why you should book a flight to Canada.
Toronto, Ontario
The number one Canadian province in terms of population and international flair is Ontario and its jewel is its capital city, Toronto. This burgeoning megalopolis is one of the fastest growing cities in the world, with nearly 100 skyscrapers currently being built, and most in the city no older than 25 years. Toronto attracts the top businesses because of its winning blend of beauty, attractions, and and quality of life.
The city features the famous CN Tower which sits near its center, and its Toronto Maple Leafs professional hockey team is a perennial favorite to compete for the NHL's Stanley Cup. Toronto is also home to one of the world's top film festivals and is Canada's home for culture. More museums and galleries reside here than anywhere is Canada.
No matter what cuisine you love, you will be overwhelmed with the selection in Toronto. The city boasts Canada's top chefs and every cuisine is represented here.
At night, the city comes alive with nightclubs, concerts, and bars lighting up the city and music filling its night air. Partying goes on in the city nearly every night of the week.
Toronto also excels as a green city. There are parks and green spaces throughout for inhabitants to come in direct contact with nature. Surrounding the city are beaches and forests to be accessed in the summer, and mountains to be climbed and utilized for winter sports.
So what can't you do in Toronto? Not much because Toronto has it all.
Montreal, Quebec
Perhaps no province it touted as a year round getaway more than Quebec and its capital city Montreal.  The city's combination of attractions and festivals makes it the perfect destination. And, whether your aim is romance, sightseeing or fun with the family, the city can't be beat.
Montreal is built on a mountain island, which means that there is water everywhere, and of course water sports rule during the warm summer months. The city also has two official languages, English and French which are mixed in nearly every sentence heard here.
Montreal also has four large universities and with so many college students, it is the youngest city in Canada.
The city prides itself on accommodating visitors in every budget range, so you will find lots of great options for hotels and restaurants here, whether you are a backpacker or a princess.
The main attraction of the city however is its culture. There are more than 90 festivals here every year and the amount of culture based attractions from museums to galleries are only surpassed by Toronto.
Vancouver, British Columbia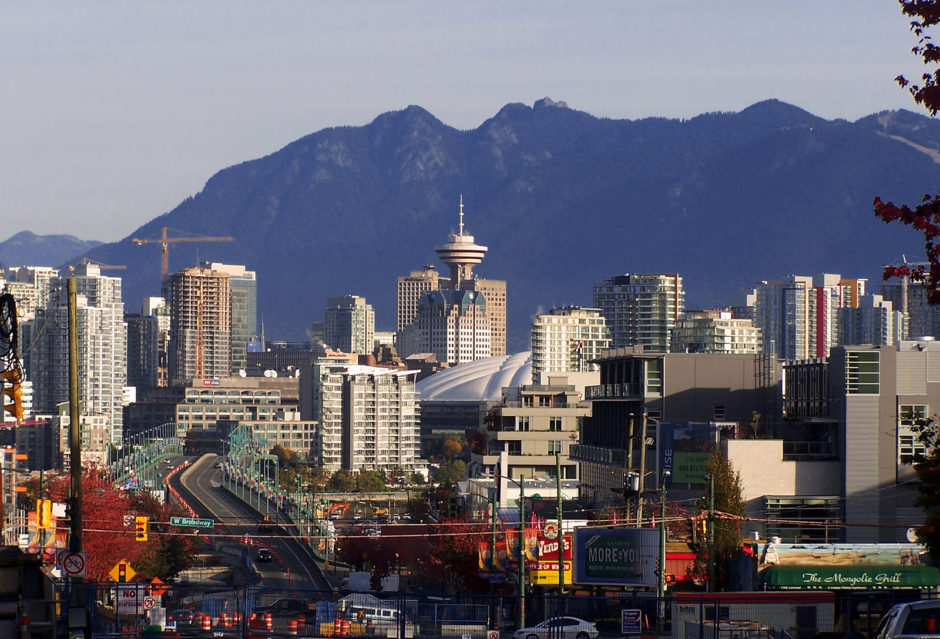 On the west coast of Canada sits one of the most beautiful and highly regarded cities in the world, Vancouver. This city of nearly two million boasts a plethora of beautiful landmarks including: the North Shore Mountains, Mount Baker in its background, English Bay, and the gorgeous Vancouver Island.
Vancouver city is filled with all of the amenities of a top city; fine restaurants, great museums and galleries, cafes, bistros, and a bustling nightlife. The city also has its own professional hockey team and an abundance of parks.
British Columbia has the mildest weather in Canada so there is no guarantee that there will be constant snow during the winter. However, this is not to say that there isn't abundant skiing and winter sports. In fact B.C. has Canada's most visited ski and snowboarding area, Whistler Blackcomb, which has hosted the Winter Olympics.
During the warmer months, Vancouver plays host to fishermen, bikers and hikers who take advantage of its abundant rivers, trails and mountain passages.
The city is also one of the top filming destinations. In fact you probably have seen Vancouver in more films that just about any other city. Vancouver is perhaps the most complete city for visitors in Canada.
No matter which Canadian city you choose to visit, you will have a fantastic time and have wonderful lifelong memories.