The shorter the trip, the more harmful it can be to the environment. When you're on a holiday or a mini backpacking adventure you usually want to keep moving; stay in one place too long and you feel like you're not making the most of your small trip window. But lots of moving means lots of travel – which means plenty of planes, trains, cars and buses. Lots of vehicles. Lots of emissions.
Basically the cost per day on shorter trips can be more to both yourself and the environment. But it's probably not practical to ban holidays or short backpacking trips, so what's the solution?
Essentially, you want to try and do the trip in an economical fashion. Leave the lowest possible realistic carbon footprint. Minimise your impact on the local environment. The way to do this is to avoid lots of internal flights, and group package trips to intense tourist sites.
Instead, take a road trip with one or more friends. I'm going to use Portugal – in particular the Algarve – as a (misunderstood) example. Hiring a car and doing a road trip here, or anywhere, can be better for the environment and will give you a far better picture of a country than shuttling between resorts and tourist hotspots. In a car you can get off the beaten track and find lesser explored routes; avoid the road most commonly travelled and see parts of Portugal most travellers never see.
After flying into the Algarve, arranging car hire at Faro Airport is easy and affordable. The airport is only a quarter of an hour drive to Faro city centre, and from there you can check out all southern Portugal has to offer.
In terms of which particular type of car you get on your trip, well, it's not hugely important; just angle for something fuel efficient rather than a voracious petrol devourer. What you do with the thing is a little more important. Don't overload the car with needless stuff you're not going to use, and try cruising rather than speeding – you'll burn through petrol slower, and appreciate the scenery more.
If you really want to be a green machine, check your tyres. You're not Lewis Hamilton, and won't get to change them every 30 minutes. Properly pressurised tyres are easier to handle and maximise your fuel efficiency. Oh, and they're safer too. Which is always nice.
So what to actually see in the Algarve? The lovely town of Loule, 22km from Faro, is a brilliant market hub which is absolutely worth seeing; there's a weekly fair, which is massively popular amongst tourists and locals alike. Loule has also got some cool historic stuff, like as the remains of the Arab Castle. Seriously, check it out.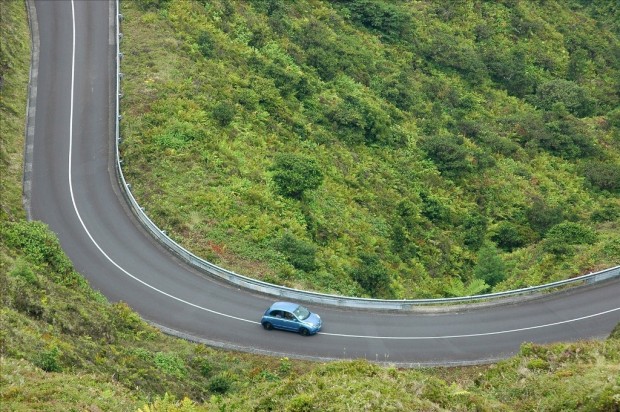 The fishing port of Olhao, 25 minutes away, is the largest of its kind in the Algarve. It's an amazing place for an amble along the promenade, and the ideal place to try some tasty and fresh local seafood. The tuna steaks are incredibly mind-blowingly good.  If you time it right, you can catch the annual seafood festival – the festa do Marisco.
If you fancy driving a bit further afield, get your little green machine up to the city of Lagos. Obviously, not the one in Nigeria. It's bursting with an awesome mix of beaches, restaurants and bars. Make sure you try a 'Milly Vanilly' – the Portuguese take on the Mojita with added vanilla and hazelnut. It's moreish.
If you want to really put the pedal to the metal (in a fuel efficient way, of course) and fancy clocking up some miles, then driving up to the huge metropolises of Lisbon and Porto is not out of the question.
Alternatively, if chilling out is really more your thing then the resort at Albufeira is a favourite, and a great spot to base yourself for short drives. The area is home to stunning gold beaches, and the old town is full of character and has a bustling marina.
So there you have it. For my money, you can have an amazing short travelling experience and minimise your impact on the environment. Portugal is the example I used; it's a fantastic country to drive, and there's loads to discover beyond the resorts. But the principles apply pretty much everywhere.