Green travel doesn't have to mean sleeping in yurts: it's all about swapping the accommodation you'd usually use on the road for a greener equivalent. By staying somewhere more eco-friendly, you can take steps to reduce the carbon footprint of any trip you take, from a Prague city break to an Italian country retreat.
We've found eco-friendly cheap hotels right across the globe to suit any budget. See below for our favourite places to stay that won't cost the earth…
Luxury
1.  Il Cantico della Natura, Perugia, Italy
A beautiful farmhouse with outdoor pool in the heart of the Perugian countryside, Il Cantico della Natura strikes a smart balance between luxurious living and responsible environmental practise. From serving meals made with local and regionally-sourced organic ingredients to recycling grey water, installing low-flow showers and running on electricity from renewable resources, the luxury hotel has taken steps to ensure it's a creditable eco option as well as a pretty place to stay.
Private quad rooms from £54.30pppn, private doubles from £66.83pppn
Via Case Sparse 50, Magione, Perugia, Italy 06063
Affordable
2.  Palmlea Farms Lodge & Bures, Vanua Levu, Fiji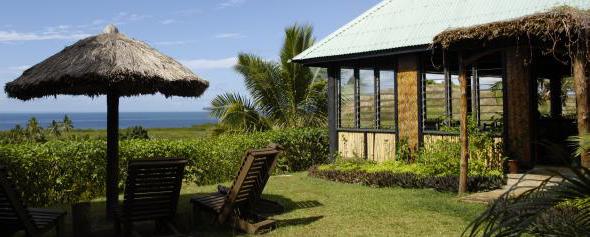 The family-run Palmlea Farms Lodge & Bures on Fijian island Vanua Levu is a model for eco-agritourism. Running on solar power with water pumped from a mountain spring, the resort also has an organic farm where most of its food is grown by local workers (and which you can choose to help out on during your stay). The lodge's main is aim to support and conserve local culture and the area's biodiversity – you'll stay in traditional Fijian bures and can get tailor-made tours to discover the beauty of the area, which includes a natural bird sanctuary. Fiji's Great Sea Reef, the world's third largest continuous barrier reef, is just off the coast.
Private two-bedroom villas from £23.32pppn
1 Yalava by the Sea, Yalava / Tabia, Vanua Levu, Fiji 0881
Budget
3.  St. Christopher's at the Mosaic House, Prague, Czech Republic
A newly-built hotel/hostel in the centre of Prague with an environmentally-friendly design, St. Christopher's at the Mosaic House is great cheap eco accommodation for friends and couples alike. It reduces waste with its grey water recycling and heat recuperation units (the first in the Czech Republic), heats water with solar power, has energy-efficient lighting and a recycling program for waste. Even the lift is eco-friendly!
Dorms from £7.57pppn, private doubles from £16.55pppn
Odboru 4, Prague, Czech Republic 120 00
4.  Kayas Place, Puerto Viejo de Talamanca, Costa Rica
Kaya's Place is a beautiful eco lodge sitting on Puerto Viejo's Black Beach. Part of the Rainforest Alliance, it's committed to preserving the local rainforest as well as providing a sustainable livelihood for its workers and local businesses (you can arrange rainforest adventure tours run by locals through the lodge). A recent renovation of the property used recycled wood, washed-up lumbar and dead fall from local farms as building materials, with no harm done to its natural surroundings.
Private cabin rooms from £8.50pppn.
200 Metros Norte Del Pueblo, Puerto Viejo de Talamanca, Costa Rica 00000
5.  Paradise Eco Resort Siem Reap, Siem Reap, Cambodia
A slice of green heaven, Paradise Eco Resort Siem Reap is 6km from Siem Reap close to Tonlé Sap Lake and Angkor's magnificent temples. With huge tropical gardens, it's easy to relax here – but if you want to explore the area, you have free daily bicycle use, and can take an organised three-day cycling tour. The restaurant serves Cambodian dishes made with local, organic produce wherever possible, and works to boost local livelihoods with organised visits to NGO projects in the area and classes like Cambodian cooking and traditional silk weaving on offer.
Private doubles from £4.72pppn.
1, Tuk Vil, N6 Baray,, Siem Reap, Cambodia 93160
Ready to go greener? See what you can do for Earth Hour.