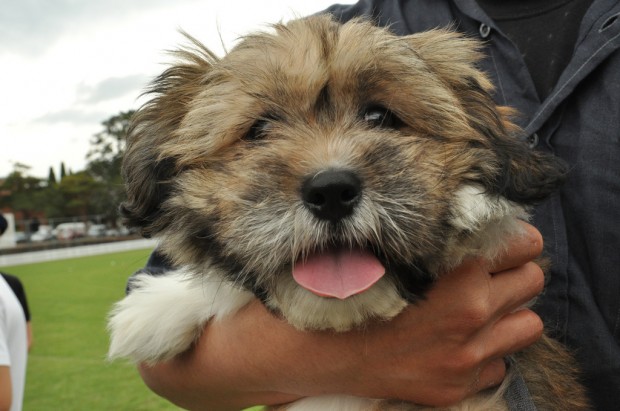 If hotels, hostels and guesthouses refused to accommodate hairy or smelly people, there would be uproar. We would be outraged. Well, most of us. But there's another type of guest that's being discriminated against in a very real way: pets. That's right; we are living in the era of pet prejudice. Many hostels and hostels are basically racist against animals. It's animal racism. Animalism.
I am, of course, being facetious. It's a first world problem. Fluffy and Paws can't go to Ibiza with you, they can't be tucked into your RTW backpack and they can't travel alongside you on the train. There are loads of holiday destinations that just won't accommodate your darling Shih Tzu and, to a certain extent; the 'prejudice' is justified. Dogs and cats can be messy, smelly and have a tendency to get over excited and break things. But a first-world problem is still a problem. The question for pet-lovers is: what are you going to do about it?
I'm not suggesting that we start a pet campaign with a cringeworthy acronym. I'm actually just suggesting you do the obvious, logical thing – find great places that both you and your pets can enjoy. Eureka!
So where to go? Well, in the UK there's a wave of zeitgeisty localism right now. Being into regional produce is popular; supporting your community is cool and 'enjoying what's on your doorstep' is the new 'experiencing awesome stuff far away'. Going local also means less carbon emissions and more domestic investment, which is good for the environment and the economy. I'm not saying don't go abroad, I'm just saying there are good options at home, which is what I did.
I opted for northern England. I found some pet friendly cottages in Yorkshire; somewhere man and beast could co-inhabit with ease. In the end I opted for a pretty little bolthole in the village of Thornton Le Dale. It sounds French but it was proper Northern: charming and traditional, stone-built with lots of ivy covering the walls. It had wooden beams and a quaint garden and it was really near an authentic Costcutter.
Most importantly, I could take Colin. Colin is a black Labrador and is in the autumn years of his life. He's too old for the hip n' happening cafes of Berlin or the sexy bars of Stockholm. These days, he prefers long walks in the countryside, quiet small-town pubs and chatting to farmers selling potatoes by the side of an A-road. Naturally, Yorkshire was a great fit. As I said before, it's currently hip to go local; travelling in your own country, consuming the sustainable bounty of the regional harvest; just being an old-school English eccentric with an anthropomorphised dog named Colin, it all seemed so poetic.
The village of Thornton Le Dale has tearooms and rustic pubs. It's a slower pace of life. People smile and talk to each other. They're not burdened by economic meltdowns or global warming. Interestingly, I found it quite easy to unplug my worldly awareness and free-fall into the refreshing simplicity of village life.
Our cottage was near to the North York Moors and its abundantly untamed countryside. This wide open natural landscape, impressive and yet understated, has been the muse of painters like Turner and Hockney, with mile after mile of rolling moorland, ancient trees and beautiful coastal cliffs. After knocking back a few home-brewed ales made by the locals, the earth and sky and colours all began to blur and melt together, like the good bits from the Robin Williams film What Dreams May Come. Colin loved it too, frolicking gaily in the heather like when Bouncer, the Labrador from Neighbours, dreamt about himself.
But Yorkshire is not all about gorgeous malt and dreamy meadows. Thorton Le Dale is only half an hour from York and its treasure trove of historical buildings, legends and folklore. Even better, though, are the nearby seaside towns of Whitby and Scarborough. Now, if your idea of an enjoyable seaside town is Monaco or Cannes, this might not be for you. But if the idea of living a vintage postcard lifestyle appeals then these are your go-to staycation hotspots.
My time in Yorkshire with Colin was brilliant and I can't wait to go back and see more of the county. Exploring your own backyard is something that backpackers frequently neglect, and they're missing out. Better yet, exploring from a base like a B&B, cottage or townhouse often means you can stay somewhere you can take your pet. Don't leave your dog or cat at home or with others; take them with you. You not only share the experience with your beloved furry friend, you actively achieve something ecological and economical. It's win, win, win!