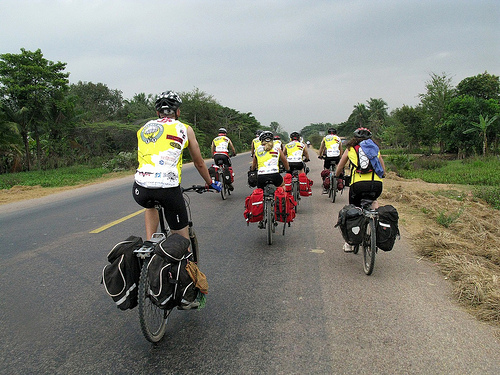 You do not have to be a tent dwelling, grub eating eco warrior to enjoy a more sustainable travel experience.  Here are five tips anyone can use to make their travel experiences more sustainable and more fun.
What's in Your Suitcase?
Every holiday requires new kit, no matter how wild or relaxed the intended experience. From travel towels to flip flops, there are fantastic choices available in natural sustainable or recycled fibers and materials.  These choices are often naturally anti-bacterial, lightweight and quick drying.  Pick the simplest design that will offer you comfort, durability and a clear conscience!  Think natural silk and merino wool.
Travel
I'm not going to tell you cycle to the Maldives, that would be crazy – but do get interested in your travel arrangements. From as little as car sharing the airport run to crossing oceans on a freight ship, for every option open to you there is usually a less damaging alternative. Holidays need not always start in an air conditioned tube at 30,000 ft.  Sometimes travelling from A to B can be the most memorable experience in itself!
Accommodation
If when you arrive at your chosen accommodation you are unable to identify that you have left your country of origin, summon every ounce of your remaining strength and flee.  Expect, search out and embrace the culture shock.  Until you have washed under a shower head with an exposed electrical cable coming out of it, you have not yet been taken out of you comfort zone.  Consider this, that it is your responsibility to put money into the culture you are visiting, not a foreign owned hotel chain.
Local Knowledge
There are few better guides to a destination than the people that live in them.  Use tourist offices for an overview but be aware of their ties to political structures – are you seeing reality? They often have commercial interests, and perhaps the worst crime of all is that they assume you will want 'The Usual' tour.  For a considerably more authentic experience, the web is throwing up ever more great ways of getting in touch with independent local guides in situ or even before you travel.
Eat and Drink Local
I am a strong advocate of the notion (read: poncy enough to believe ) that you can taste a local culture through its cuisine.   You are truly travelling in another person's country when they prepare  food for you that is grown in their ground,  according to their tradition.  The same goes for the wine  – if not more so.  If you need to justify these trips to locally owned restaurants remember tip No.3, it is your responsibility to invest in the culture you are enjoying. Bon appétit!.
Ed White is co-founder of Much Better Adventures, a leading adventure travel resource connecting you with local, independent and ethical holiday providers around the world.