The weather in Cyprus is just perfect. It has a Mediterranean climate with hot, dry summers beginning mid May until September. The winters are fairly mild with some rain and begin in November, lasting until April. Spring and autumn are relatively short periods with stable weather, spring can be glorious with all the flowers and autumn days can be sunny and warm. You can often swim well into October.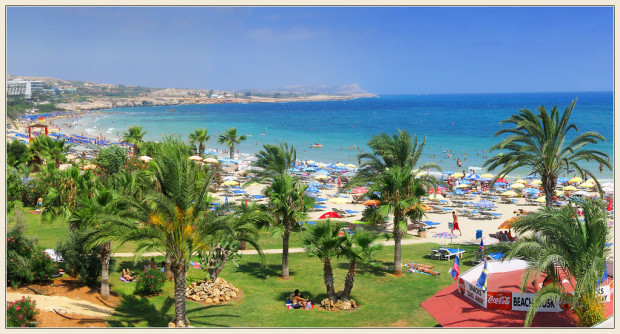 Average Temperatures
During July and August, the hottest part of the year, the daily temperatures range between 22C to 36C, depending where on the island you are located. Some days thought, it can reach or exceed 40 degrees! It is obviously cooler in the mountains and hotter by the sea or on the plains.
In January, the coldest month of the year the daily temperatures range from 0C – 10C, again depending on your location.
Sea Temperatures
From June to November sea temperature is 22C in the open sea. From January to March the sea temperature is 16 – 17 degrees C. There are no significant daily fluctuations.
Air Humidity
During the summer humidity is low at midday, 15%-30% on the central plains. Winter days and nights all through the year, the humidity is average to slightly low, 65%-95%. There is sometimes fog in the early mornings but it is rare. Visibility is excellent but spring days can be a little hazy due to sand dust from the Arabian and African deserts.
Hours of Sunlight
Cyprus is a very sunny location with 11.5 hours of sunlight for 6 months of the year during the summer. Even in December and January there are 5.5 hours of sunlight in the day. More or less sunshine all year round.
Winds
Winds are variable in both strength and direction depending on local temperatures and the elevation of the location.
So, what are you waiting for? Rent a villa in Cyprus paradise and prepare for some unforgettable holidays in the sun! Check out Prime Property Group for the best deals.