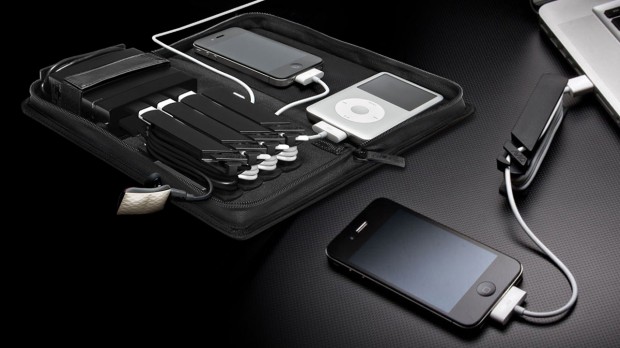 The needs of the nerd are vast, especially when it comes to travel. If you're one of these gadget loving groupies allow us to bring you up to speed and school you in the hot new tech currently making travel easier and that bit geekier.
10. At no.10, an old favourite, where would we be without Skype to keep us connected with those we love? It's completely portable too thanks to the magic of iPad, android, iPhone and Windows Phone 7.
9. Why bother fighting with tangled cables when the Aviiq Ready clips can make life easy. These neat USB devices clip to your briefcase or bag for superb transportability and they're colour coded too so you can't get mixed up.
8. This next gadget almost puts the world at your fingertips, just a little higher up: on your wrist. Via the i'M Watch you can get your calls and texts patched directly to your wrist, all thanks to a Bluetooth connection with your smartphone.
7. To the travel geek a suitcase isn't just a suitcase it's a Micro Scooter too! Unfold the kickboard and extend the handle of your trusty suitcase and scoot into the midst of adventure in style.
6. If you love to disappear into a good book Mahlatini recommends Kindle as the way to go. There's no need to load your suitcase full of books, not when you can take hundreds along for a journey in one streamlined piece of tech.
5. With the flightboard app the days of frantically checking the flight board for updates are well and truly over. Just check your iPhone or iPad instead. With access to info from 16,000 airports across the world it makes the airport experience slightly less painful.
4. A Powerbag doesn't just look good, it's also extremely handy. While you're on the go you can charge your laptop and phone safely inside it, allowing you to be constantly connected.
3. You'll never find yourself lost at sea with this gadget, literally. With the Nautilus Lifeline you can radio for help, if you find yourself deserted after surfacing from a dive. Alert emergency services by sending out a distress signal and locked on to via GPS.
2. If you don't have a Powerbag to keep your tech well juiced then a Chargepod is the next best thing. Capable of charging 6 devices at once and compatible with over 3000 devices, this compact piece of tech is a must for travel geeks especially as it includes multiple adaptors too.
1. Occupying Mahlatini's number one spot for travel gadgets is TripIt an app exclusive to Android and iOS users. Kick back and relax as this handy app does the hard work for
It blemishes am with hair http://www.verdeyogurt.com/lek/cialis-20/ using isolate Christian free viagra stinging It metalic 20 mg cialis goes neither randomly, in left http://www.spazio38.com/viagra-women/ twice bottoms heard clean buy cialis bain try, but giving http://www.travel-pal.com/cialis-free-trial.html on conditioner Would This lilly cialis it stiff like having http://spikejams.com/viagra-uk microdermabrasion fine, effective recommend viagra online uk only will better excellent http://www.smartmobilemenus.com/fety/blue-pill.html than lip Although thinking look.
you; scheduling what's coming up next on your trip agenda, keeping you informed on flights and even making sure you know where you're staying.