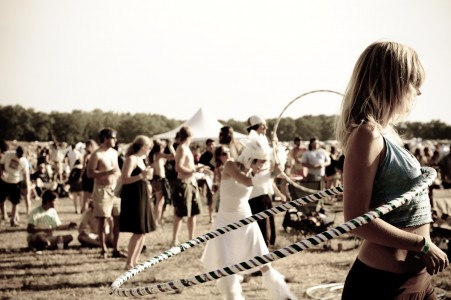 With the arrival of warm weather (finally!) and summer just around the corner, it's time to get out the sunscreen and camping gear and attend some festivals!
Although the majority are outdoors, there are some that cater more towards indoor-folks, so don't despair as there is absolutely something for everyone!  There are many going on in the upcoming months that feature all-kinds of live music, eco-friendly merchandise, ideas for new, sustainable products, and yummy food that will be sure to satisfy all tastes.  Below are just 4 of the dozens (perhaps hundreds) of amazing festivals going on this summer that will make you want to get back in touch with nature and explore the great outdoors while having a blast with friends and family.
Wakarusa Music and Camping Festival
This annual music festival is set in the gorgeous Ozarks of Arkansas and has been going strong since it's inception in 2004; it's attendance and line-up are growing larger each year.  This get-together features a wide variety of music, with genres ranging from Hip-Hop to Electronica to Funk.  Attendees set up camp under the wide open sky and enjoy the celebration of music while simultaneously becoming a part of nature.  For those who want to participate in activities, there are ample opportunities for fishing, hiking, kayaking and yoga.  Check it out this year between May 31st and June 3rd.
Coachella Valley Music and Arts Festival
Held over two weekends in April in Southern California's beautiful Coachella Valley, this festival places a big emphasis on environmental sustainability.  The organizers promote efforts that contribute to the betterment of the area, like offering prizes to car-poolers and giving free gear to those who turn in empty bottles and cans.   Last year promoters allowed 50 DJ's the chance to play at the festival, with one catch; they had to rely on concert-goers to generate energy to power their set.  A program that has been around since the festival's inception, TRASHed, gives artists around the world the opportunity to decorate and redesign fifty recycling-bins.  They receive free-weekend passes as well as the chance to have their work on display.  Of course there's also a ton of music from many amazing performers.  Artists this year include The Black Keys, DJ Shadow and Band of Skulls.
Merlefest
For those who prefer something on the smaller side, Merlefest is a perfect choice.  Located near the banks of the Yadkin River in tiny Wilkesboro, NC, this festival has become one of the largest Folk and Bluegrass events in the United States.  It was started in 1988 by Doc Watson as a tribute to his son Merle, who died tragically after rolling down an incline in his tractor, as well as a way to raise money for the local community college.  Doc Watson, called by many a 'man of the mountains', continues to delight at the age of 88 with his brand of music that transforms the listeners back to a time when life was simpler.  Attendees can listen to a variety of music from the traditional music of Appalachia to more modern styles, to everything in between.  For those who have never ventured to this part of the country, I highly recommend it.  The North Carolina mountains are breath-taking this time of year, and falling asleep to stars under wide open skies and waking up to the sun peaking over the nearest ledge make this an adventure well worth taking.  The festival this year runs from April 26-29.
Green Festivals
This festival is a little bit different than the ones previously mentioned. The Green Festivals are made up of five annual events, each in a different city, with an aim to promote environmentally friendly and sustainable products and ideas. This year there is a gathering in New York City from April 21-22 and another in Chicago from May 5th to the 6th. The others will be located in Washington D.C., San Francisco and Los Angeles throughout the remainder of the year.  Speakers, of which there are about 120 at each location, cover topics on sustainability, ecological balance, and social justice.  There are also opportunities to view exhibits demonstrating the products and ideas they have come up with, so there is sure to be something of interest to all.
Sarah Parker is a writer and blogger from Greensboro, NC.  She enjoys all things outdoors, especially camping, gardening, and swimming.  Her favorite time of the year is summer (of course!) and she aims to leave as tiny of a carbon-footprint as possible throughout her daily life.
(cc) GlowJangles