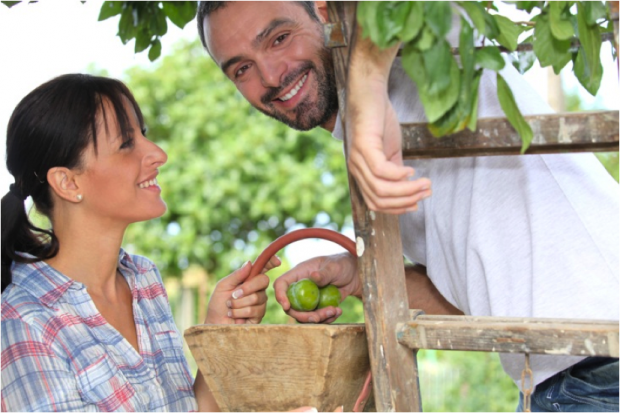 Couple farming via Shutterstock
If you've spent a fortune on your wedding and are feeling a little guilty, perhaps volunteering on your honeymoon is the perfect way to dispel those post-nuptial blues. Not to mention, honeymoon volunteering for a charitable project or organization can be a really satisfying way to start your new lives together.
As well as devoting your time and energy to a cause that really needs it, volunteer vacations can be truly unique, meaningful experiences that allow you to see far more than you would if you were staying at a resort, so here are a few ideas to get you going.
World Wide Opportunities on Organic Farms
World Wide Opportunities on Organic Farms (or WWOOF) gives you the chance to learn sustainable farming firsthand. WWOOF brings together host organic farmers and volunteers from all over the world. You can spend your trip planting, weeding and milking, among other necessary farming tasks (mucking out stalls, for example!).
WWOOF is especially good if you're concerned about your carbon footprint. This type of farming limits the use of any synthetic fertilizers or pesticides that might harm the environment so gets a double thumbs up.
The American Hiking Society
If getting about in the great outdoors is your thing, then The American Hiking Society runs volunteer vacations where you can help build and maintain trails throughout the country. The organization teaches public land stewardship, and gives volunteers the opportunity to give something back to the trails they love.
All of the projects are labeled from 'easy' to 'very strenuous' so you don't need to worry about being fit for the challenge. You get to spend your evenings relaxing under the stars and the experience gives you the opportunity to meet other, interesting, like-minded people.
Global Volunteers
If you want to go further afield, Global Volunteers arrange projects such as playground construction, road repair, home renovation and water system installation all over the world. You don't need to be professionally skilled; anyone in good physical condition can help with their projects.
If pounding nails and painting walls doesn't sound like your idea of a perfect honeymoon, then Global Volunteers also help deliver essential services to their host communities. If you're a teacher or a health care professional, then they've got the right project for you to use your skills where they're needed most.
Coral Cay Conservation
Coral Cay Conservation supports the preservation of coral reefs and tropical forests all over the world. If conservation is your thing, then Coral Cay's mission is to educate people about the importance of managing coral reefs in order to preserve them for future generations.
Coral Cay is recognized as experts in marine conservation, and due to this work with governments and international NGOs completing scientific research on coral reef systems. The organization works with local communities to preserve fragile ecosystems and offer you the opportunity to learn the science behind marine conservation, you can even gain qualifications such as Reef Check while you're with them.
I-to-I
As well as conserving delicate ecosystems, I-to-I provides volunteers with the opportunity to get involved in helping to preserve endangered sea turtles. By volunteering with I-to-I, you will gain insight into marine biology and receive training that enables you to help with research and data collection.
Cleaning beaches in preparation for the nesting season is an important part of this project, as well as taking part in beach patrols. You'll get to spend your nights on a Caribbean or Pacific beach and experience a totally different, laid back way of life. This project is great for a honeymoon as the minimum volunteer period is a week, but they're sure you'll want to stay longer.
Things to keep in mind
You shouldn't approach a volunteering honeymoon with the notion that you will get to vacation for free. Volunteering programs sometimes charge you to participate (in order to cover supplies, board and other essentials) and of course you'll have to pay for your travel expenses.
Some volunteer programs have scheduled start and end dates, so make sure that they fit in with your plans. You may have to commit for a set amount of time, be it a few days, weeks or sometimes even months. You've got the rest of your lives together; why not spend a few months doing something worthwhile.