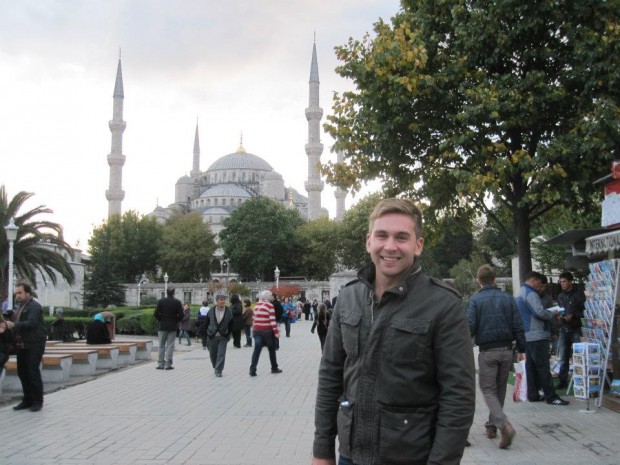 A true "Renaissance man", Jeremy Albelda sums up his existence with that tagline pretty well. Head of an internet marketing company that specializes in creating content for websites from small blogs to corporate juggernauts; Jeremy also does SEO, translations and some web development all while travelling the world.
Involved in the promotional marketing industry, on any given day Jeremy can be found dressed up as the Geico Gecko (something he particularly loves) dancing around like a fool, to helping consult or execute large scale events or brand promotions. As a result of this work Jeremy travels all over the USA.
Leader of the travel blog, The World or Bust, working in this way allows Jeremy to maintain an ultra-flexible schedule so he can do what he loves best; travel. Currently based in Miami, Jeremy takes off for a week or two every 5 or 6 weeks.
How many times do you fly a year?
I'd say 10 to 15.
Furthest you've travelled overland?
Miami to Philadelphia via car – 1200 Miles.
Favourite means of transport?
Believe it or not, I'm starting to get more and more flying anxiety, which is weird because I do it so much, but I'd say I prefer bus travel if it's clean and on time.
Best overland travel experience?
Believe it or not, Mexico has the best bus system I've ever experienced. They are always on time, super affordable, clean, play movies, and they even give you food and drinks for free (screw you American Airlines). For a measly 3 or 4 extra bucks, you can usually upgrade to a first class bus line or executive bus line which includes Wi-Fi, leather seats, better food, and more direct routes.
Worst overland travel experience?
I took a bus back from Iguazu Falls in the north east corner of Argentina all the way to Buenos Aires which normally takes an already grueling 18 hours. My trip was cursed as some girl had a seizure and we had to pull into some random small city halfway there for 4 hours so she could be picked up by an ambulance. Then an hour later, somebody on the road threw a rock through one of the bus windows and then the air conditioning broke. It was pretty ruthless.