So you're all packed up and ready to go on the adventure of your life now are you? Well, whether you're prepared or not, those cheap holidays you've been looking forward to are about to take a turn for the worse.
Strapped in on your overland odyssey, you begin to encounter what appears to be more than just a bump in the road. Shaken but not deterred, you continue a little further on down that path. Fortunately this time you're lucky. Everything works out fine but you're still glad you took the time to shop for cheap life insurance. Sailing on to your final destination, you crack open the beers and let the wind blow through your hair.
Still it's a close shave. And for plenty that have gone before you, on other roads of danger and peril, the story didn't quite turn out the same. Monster roads? Oh there are plenty.
Here's DontFlyGo's list of twenty roads you want do your damn hardest to avoid on your overland travels. 
The Dalton Highway, Alaska
Built in the 1970s, Alaska's Dalton Highway is little more than a glorious dirt track. Half-buried in Arctic snow, half-occupied by 18-wheeled freighters hurtling forwards at a dangerous pace, ask yourself if it's really worth going "into the wild" for this one…
Lombard Street, San Francisco
One might not have expected The City by the Bay to crop up in a list like this, but Lombard Street, San Francisco's steep traffic-rammed death-trap, isn't anywhere near as fun as it looks. Stick to the trams if you ask us.
Halsema Highway, Philippines
The Philippines has plenty of other spots to chill out and take in the landscape other than Halsema Highway. This unpaved road, threatened by landslides and boulders from above, is best left in favour of the beaches.
Death Road, La Paz
Bolivia's infamous Death Road is known all over the world as the quintessential road of doom. Replaced in 2006 by a much safer bypass, adventurers still like to feel the electrifying pulse of passing over it on bike tours and more.
The Col de Turini, France
Part of the Monte Carlo rally championship course, the hairpin turns of Southern France's Col de Turini are probably best left to the professionals rather than any would be overland traveller. At more than one and a half thousand metres high I'm sure you'll start to think likewise.
Canning Stock Route, Australia
Said to be the world's most remote roads, you wouldn't want to travel this one alone (or even at all). Stretching over 1000 miles of desert, this one takes three weeks. Be warned: gas stations are rare.
Nepal-India Border
Freshly dug dirt tracks and the one of the world's highest statistics for road accidents, tagging along for a ride along the Nepal-India border is never going to be dull. Nor fun.
Transfagarasan, Romania
Tested out by BBC's Top Gear (they didn't much like it), Romania's Carpathian mountains are home to this 56-mile long road of cry-like-a-baby tarmac. Home to more twists and turns than a Mexican soap opera, you probably won't take any solace in the fact that 40 soldiers died making it either.
Stelvio Pass Road Trollstigen, Italy
Lurching out of the Eastern Alps, Italy's Stelvio Pass lies just 75 km from the Swiss border – if lucky enough to make it that far. Still there's plenty of pizza and chocolate in heaven, depending on where you land.
Siberian Road to Yakutsk, Russia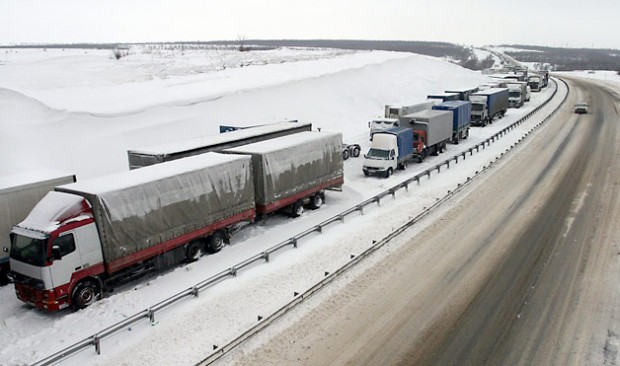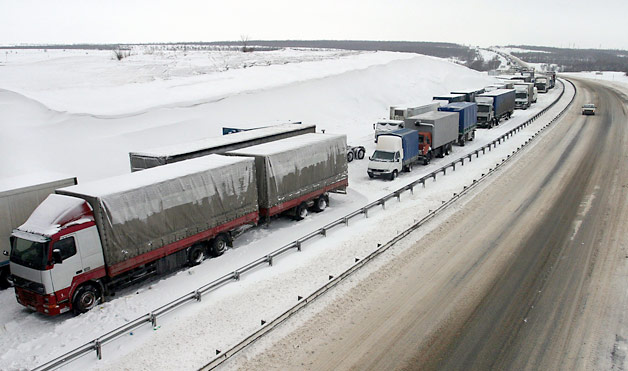 Often home to flash flooding and stick whirlpools, this federal-government highway is the only way for locals and tourists alike to make it down to Yakutsk.  Responsible for some of the world's longest running traffic jams.
Taroko, Taiwan
Sitting at a height of 3,282 feet, you'll need balls of steel to motor along this road, located on the peak of Taiwan's Taroka Mountain. Even more dangerous due to falling boulders and stones, we'd rather have a warm cup of cocoa then go anywhere near Taroko. But if you decide to take a trip to the area, staying only a few hours away in Taipei should be a great experience. Make sure you check out hotels online at sites such as Expedia for the best deals on short term accommodation.
A682, England
The English are well known for their complaining but those brave enough to travel overland on the A682 probably have every right to. The cause of 100 deaths in the last ten years alone, this 14 mile lane in the north of the country might not be the most imposing, but it's not any less deadly either.
Kabul Road to Jalalabad, Afghanistan
Afghanistan is probably the last place you'd think of taking a road trip. Couple that with this 40-mile road however and you can no doubt cross it off the list forever. Prime Taliban territory, you'll have to also content with vertical drops and plenty of U-bends if should any death-wish be particularly strong.
Grimsel Pass, Switzerland
A high valley pass between the Rhone River and the Haslital valley, Switzerland's Grimsel Pass is one mountain we'd actually rather be a molehill.
Trans-Sahara Highway
With temperatures as high as 50C and sandstorms whirling around you, there's a lot to contend with on this road that joins Algiers to Lagos. Paved but in poor condition, expect plenty of roadside stops – that's if you don't break down thanks to heat exhaustion first.
Zoji Pass, India
Narrow roads, death-slide drops and high winds and heavy snowfall are the normal conditions for a nice breezy drive along India's Zoji Pass.
Karakoram Highway, Pakistan to China
Not much further away the Karakoram Highway, starting in Pakistan, doesn't offer much food for though either. The highest paved road on the planet it's also one of the busiest and most dangerous, thanks to the impromptu stopping of tourists gawping at sights like the K2.
Skippers Canyon, New Zealand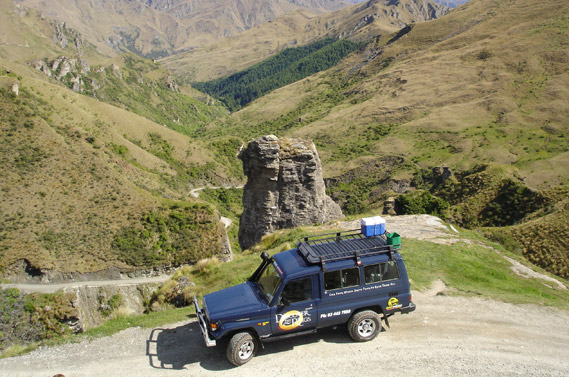 The 22km long Skippers Canyon road might run through some of the most spectacular scenery in New Zealand but it's also about as narrow as they come. Even the rental companies tell you not to do it.
Trollstigen, Norway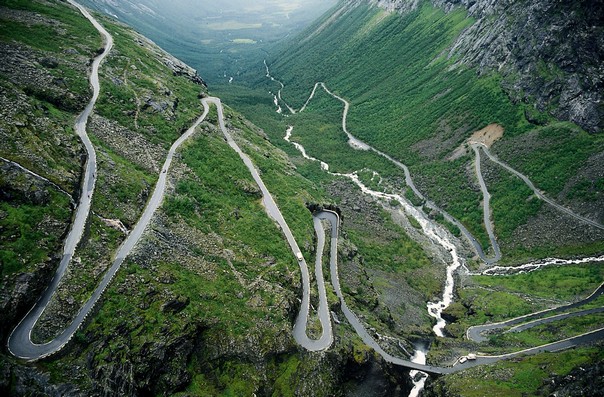 As if the name didn't want to make you stay away (Troll Ladder), one look at this Norwegian mountain road in Rauma and we're pretty sure you'll want to run.
Guoliang Tunnel, China
Translated as "the road that does not tolerate mistakes" you can't of hard-pressed to enjoy this one before even going in. Made by villagers in the remote Taihang Mountains so that they could access the outside world, we can't help that all sides would have been better off if they just left this one alone.
So hopefully we haven't undeterred your overland wandering too much with this list of the world's most dangerous roads. If you've got any you think are worthy of a mention let us know in the comments below…
(cc) Todd Huffman / Andrew and Annemarie / impaulsive photography / janebelindasmith / grialbastrui / Lev Yakupov / sharon8885@verizon.net / jimmyharris