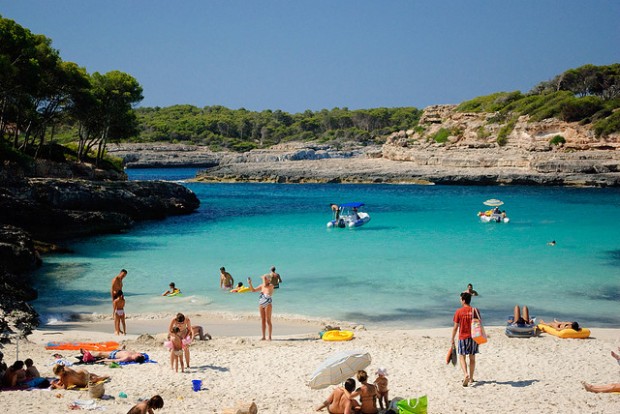 You may not pair the words 'green' and 'Majorca' together in your mind; as the largest Balearic island surely there's too much traffic and tourism for it to be considered eco-friendly?
True – Majorca is one of Europe's busiest beach destinations with 20 million visitors annually but it seems that in recent years, they've made an effort to address their eco-conscience and have some real green qualities to consider for the eco-traveller.
Find great deals with Thomas Cook Majorca holidays online.
You can ditch the car
The perk of staying on a larger island is the great public transport options available. Majorca has two main train lines running through it linking the capital Palma with the minor towns. This makes it easy to stay in more rural locations and still use the facilities of the more built up areas.
There is also widespread cycling rental opportunities and a great cycling infrastructure on the island. Seeing the island by pedal power is a beautiful way to soak up the scenery.
You can keep a clear conscience
Forget your pre-conceptions of an over-developed package destination, Majorca has been making efforts to clean itself up over the years, so you can enjoy the white sands and turquoise waters of the quieter beaches thanks to their grassroots conservation efforts.
Millions of pounds have been spent making the streets cleaner and the infrastructures better developed.
Natural areas of wetlands, mountains, beaches and forests have been protected from future development to safeguard the future of the island.
You can sleep in peace
There are eco-hotels and spas dotted all over the island; relying on green energy, utilising solar panels, great energy efficiency and with excellent recycling programs, these are the sort of places you don't expect to find on such a developed island.
Alternatively, you can combine the green accommodation with an authentic setting and atmosphere by staying in a rural converted inn.
Here you escape the busy resorts and enjoy the sights in peaceful locations.
You can walk the sights
Despite Palma's beaches being very over-crowded, there are plenty of historic sights to tick off the to-do list in the city. And it's a great city to explore on foot; once you get there by train, bus or bike, there are castles, cathedrals and other fascinating cultural attractions.
After a day taking it all in, you can escape back to your secluded haven in a quieter corner of Majorca.