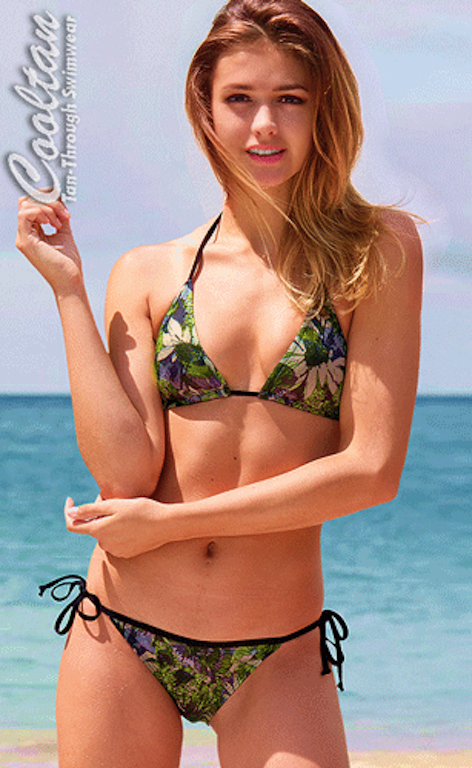 Swimsuits are a travel essential- whether you're traveling in summer or winter you are pretty much guaranteed to need a swimsuit along some leg of your journey. But we don't want just any swimsuit. It needs to be comfortable, lightweight, and great for tanning and traveling. We think we've found the perfect travel-friendly swimwear thanks to the company CoolTanⓇ and their incredible line of TanThrough swimwear.
The secret to getting an amazing tan with CoolTan's suits is their use of specially formulated Microsol V fabric. This fabric is specially knitted to create millions of tiny pores, which work to let in approximately half the sun's rays to get you a tan about as fast as you would with a medium level sunscreen. Plus, being able to tan right through your suit means you no longer have to use sticky and streaky tanning lotions, or have to deal with annoying tan lines. Getting a tan can be as easy as walking along the beach, going boating, or even just lazing by the pool. The unique fabric also allows water and air to flow right through the suit, keeping you nice and cool while also drying up to 3x faster than normal fabric. This makes it the perfect option for traveling because you won't have to wait around for your suit to dry all day before being able to pack it back in your bag. The moisture-wicking fabric is also great at keeping you nice and comfortable throughout your trip, allowing your skin to breathe and making it so you don't have to sit around in a soaking wet swimsuit.
CoolTan's swimsuits are machine washable, making them super easy to keep clean and get out all that salt and sand to prolong the life of your suit. They are also durably stitched so they will last longer than normal suits that may fall apart after only a few uses.
CoolTan also has a line of TanThrough shirts available that make it even easier to get a tan when you can't lay around on the beach all day or are just going about your day or travels. Their TanThrough shirts also contain that Microsol fabric that lets in the sun while functioning like a medium level sunscreen, no more farmer's tan required.
CoolTan has a variety of colors, sizes, and styles to choose from including monokinis and 1-pieces, string and halter bikinis for women and everything from briefs to board shorts for men. Their line of TanThrough shirts has a variety of styles including polos and V-necks to suit all your activities and make a great option for traveling. We highly recommend checking out CoolTan to see just how easy it is to get a tan and to give the perfect travel-friendly swimsuits and shirts a try!