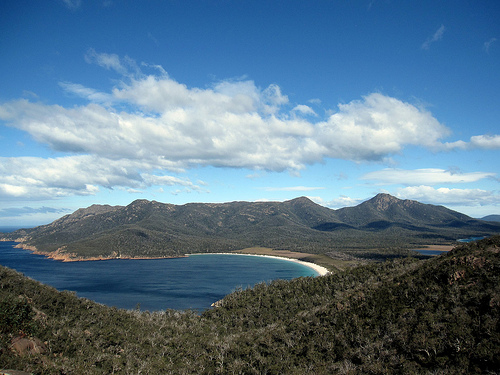 With the varied landscape and the rich biodiversity, Australia is one of the most interesting destinations for individuals with adventurous spirits. There is much to do whether you are looking for outback getaways, adventures within city limits or eventful trips to the country. But, before you go rushing to the next thing that will pump adrenaline to your veins, stay on the safe side and be sure to obtain an Australian travel insurance. Once you are all set physically, mentally and emotionally for something another awe inspiring trip, be sure to consider a trip to the following places:
Horizontal Falls, Kimberley Coast, Western Australia. The rushing waters in the gorge in Kimberly Coast will make you feel as if you are seeing a waterfall, hence, the name of the place. There is much to see and experience when you are in the vicinity. You can take a ride on a 14-seater luxury sea plane people and fly over the Buccaneer archipelago's 1000 islands. Your plane ride ends at Talbot Bay where the gorges that makes up horizontal falls can be found. To experience horizontal falls up close, you can ride Jet Stream, the fastest boat in Kimberley. The gorges may look like white rapids from afar but the water here is actually falling making your boat ride one adventurous ride.
Hancock Gorge, Western Australia. Twisting through Pilbara Hills, Hancock Gorge looks like a huge cleavage with a drop that is enveloped in darkness. With its location in Kirijini National Park, Pibara region, having a 4 wheel drive is ideal. From above, the gorge is an intriguing sight and braving this gorge will require an adventurer to climb down the ladder which is bolted on the rock floors. Following a creek on the canyon floor, the trip leads to a sight of ever increasing gorge walls and ultimately narrows into a small opening that leads to chest-deep waters then to a pebble lined beach. The ever narrowing gorge makes it necessary to go down in hand and foot until the gorge opens up to an emerald pool which is concealed in the shadows.
Crocosaurus Cove, Darwin, Northern Territory. If you are looking for an Australian adventure that will make your throat feel raw how about a close nose to snout encounter with a deadly saltwater crocodile? Casual swims are not allowed in Darwin but you can experience a close encounter with a croc in the acrylic cylinder lowered by monorail to an enclosure where an adult crocodile is housed. The 4 centimeter cage of death is big enough for two people and the croc won't wink and smile, instead, you'd be spending the next 15 minutes with a nervous grin as your leathered host attacks the cage with intent. Located in the corner of Peel and Mitchell in Darwin, the Cage of death runs 10 times every day.
Mossman River, Queensland. Biodiversity has never been an issue in Australia and when looking for an adventurous jaunt in the country, snorkeling in the World Heritage Wet Tropics is surely an unforgettable experience. Hitting the deep water in the Mossman River is aptly called drift-snorkeling because you don't require flippers for this underwater adventure. The waters are grazed by turtles while the surrounding forest is filled with music from the river tinkles, the whooping birds and the buzzing cicadas. The serene sound from one of the world's oldest rain forests is surely something to add to your bucket list.
Whitsunday Islands, Queensland. Braving the seas is one of the most adventurous things to do especially when you are not a sailor. But, you can go sailing in a million dollar vessel after a 4-hour briefing in Whitsundays in Queensland provided you respond to respond to a radio twice a day to give your location. After filling the vessel with companions and provisions for the trip, you can make your way to various bay islets in Whitsundays. If you ever get the urge to go bare boating, be sure to book a vessel in advance.
Photo Credit: rapidtravelchai